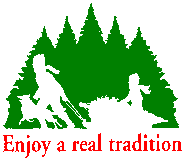 Rinas Christmas Trees
519 621-1438
As you enter our farm you are driving down one of the Westover Drumlins left by the glaciers some 15,000 years ago. The thin soils over the dolomitic limestone have proven unsuitable for ploughing but ideal for growing trees. We used to have beef and dairy cattle. Then in 1979 we started planting Christmas Trees.
The farm is located near the village of Rockton on a quiet rural road.
For a great family outing one can harvest a tree from one of seven different fields of trees.
We grow mainly spruce and pine. Our Scotch Pine selection is good this year, with a full range of sizes. Need a large pine ? Just ask any of our helpers for direction to a field called "The Far Side" or "The Deer Field". You might consider trying Ontario's provincial tree, the White Pine . The light green foliage, shown below on the left, is known for excellent needle retention. A good choice if you are harvesting a tree early in the season.
|Update as of Dec 15th 2014

.......We have many spruce avaliable up to the 6 foot range however the 7 and 8 foot range and higher is no longer plentiful.
On weekends we have a hay wagon that is constantly making its way around to the edge of each field. You can bring your tree back to your car using this wagon or just go along for the ride.
We also have Ruth's Warm-up Shelter where on weekends, hot cider is available.
---
---
These are quality trees, all individually displayed and priced . This has been a very popular addition to our farm.
Update Dec 19th 2014 6:00 pm....... The precut lot is sold out.
---
December 2014
We have a good selection of Scotch and White Pine this season.
Spruce trees are the most numerous variety on our farm. Colorado Blue Spruce, Norway and White Spruce.
We are open everyday of the week, from Nov. 29th to Dec. 24th,
9:00 a.m. to 4:30 p.m..
Spruce, Pine and Fir (any size, cut your own)........$38.00 HST included
Cash only please.
Please note: We do NOT have the setup for Debit Cards.
We have tapered drill tree stands and the drill required for anyone that has this type of tree stand.
The selection of Fir (cut your own) is limited. The tall Fir we have in the fields tend to have issues with the bottom part of the tree, but the tops can make good christmas trees.
---
GPS coordinates N43°19'394 W080°08'121
Google Maps Coordinates 43.325223, -80.135241
---
TOMTOM AND MAGELLAN GPS ENTRIES
city.......Rockton ON street......... Sixth Concession W house number..........1762
GARMIN GPS ENTRIES
city.....Hamilton Ontario house number..........1762 street.........Concession 6 W
---
Map from Hamilton, Dundas and Burlington
We can be reached at 519 621-1438
or Email : erinas@ispnet.ca